Free Domestic Shipping on All Orders !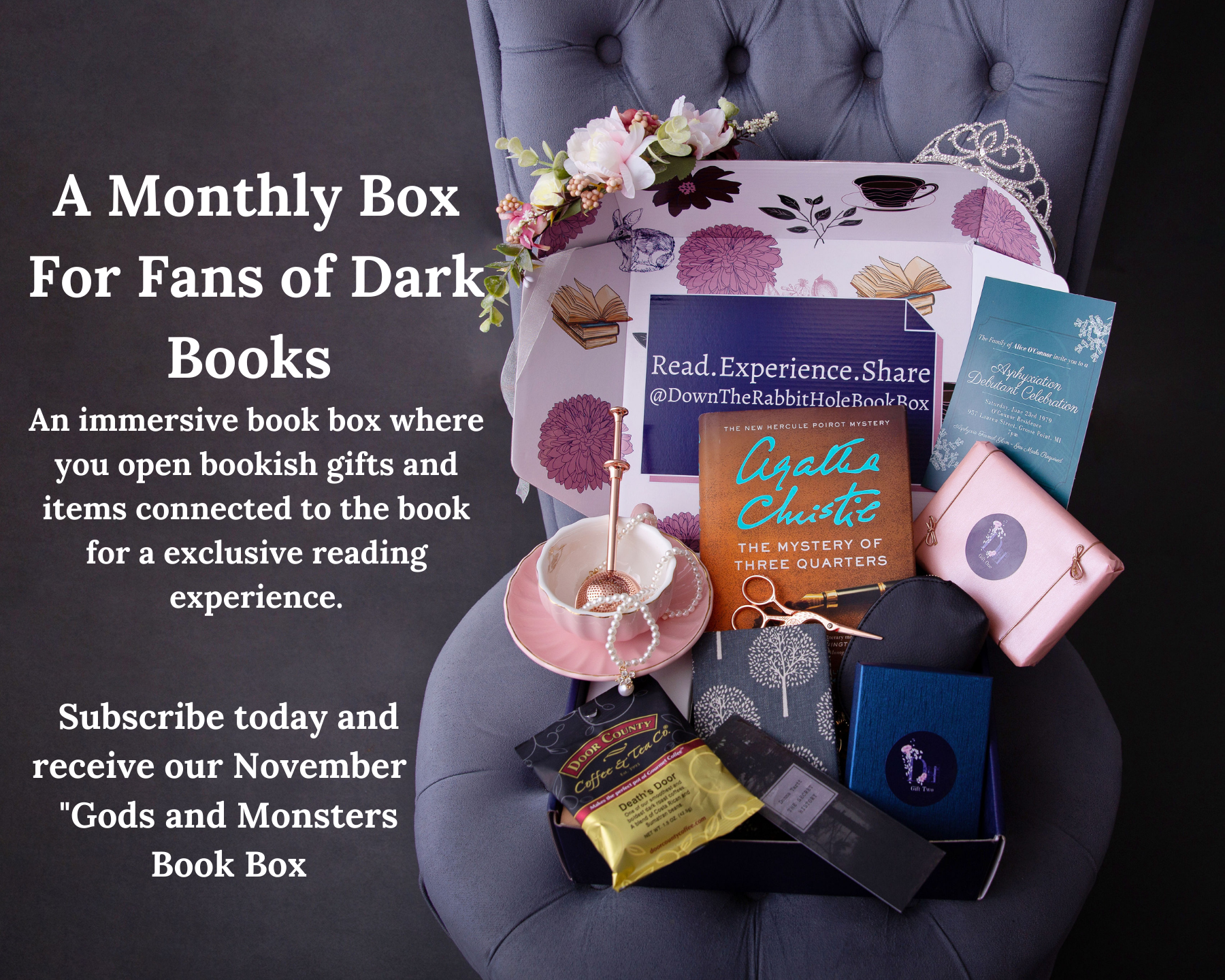 Each Month You'll Receive......
A dark paperback or hardcover book

(No happy ending guaranteed, we find the best darkest and most thrilling books every released) for you to enjoy !
4-6 high quality individually packaged and numbered gifts mentioned or inspired by what you're reading.
A custom or novel inspired bookmark.
A brochure with book reviews, facts about the book and author.
Carefully placed stickers through out your book letting you know when to open your gifts.
On the 16th of each month we release a book theme and four graphic hints to give you clues on what book we will be releasing next month. If you would rather not guess, no problem ! Just email or DM us and we will be more than happy to send you that month's book title and synopsis.
LIMITED TIME OFFER
Save 25% off your first box with a 6 month commitment plan use code: HAUNTED25
Save 50% off your first box with a 12 month commitment plan use code: HAUNTED50
*On new subscriptions only, can not be applied retroactively.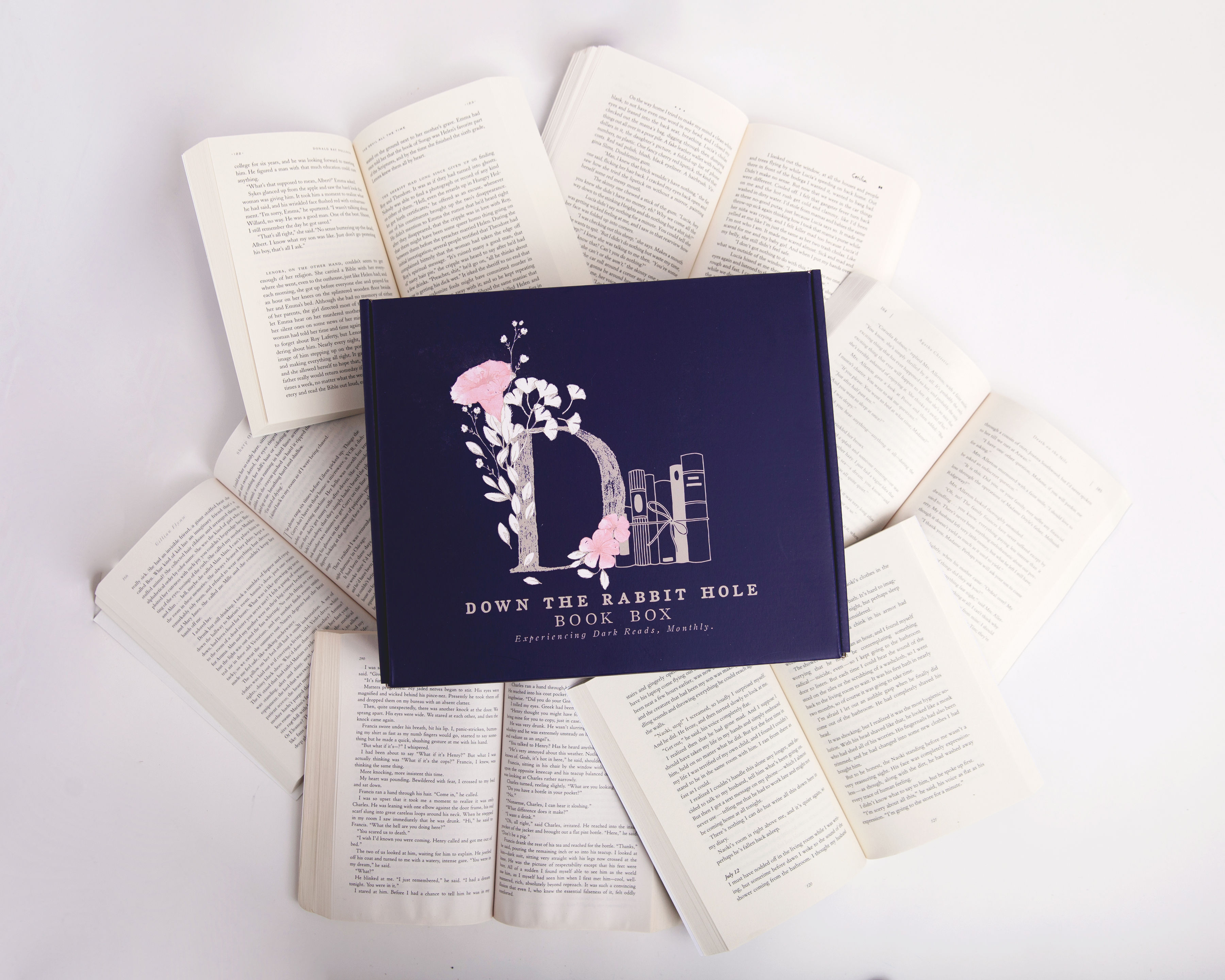 1. Subscribe to Down The Rabbit Hole Book Box !
We offer one, three, six and twelve month plans. We will ship your curated book boxes until you say when. One time gift options are also available. A dark and exclusive reading experience is just a click away !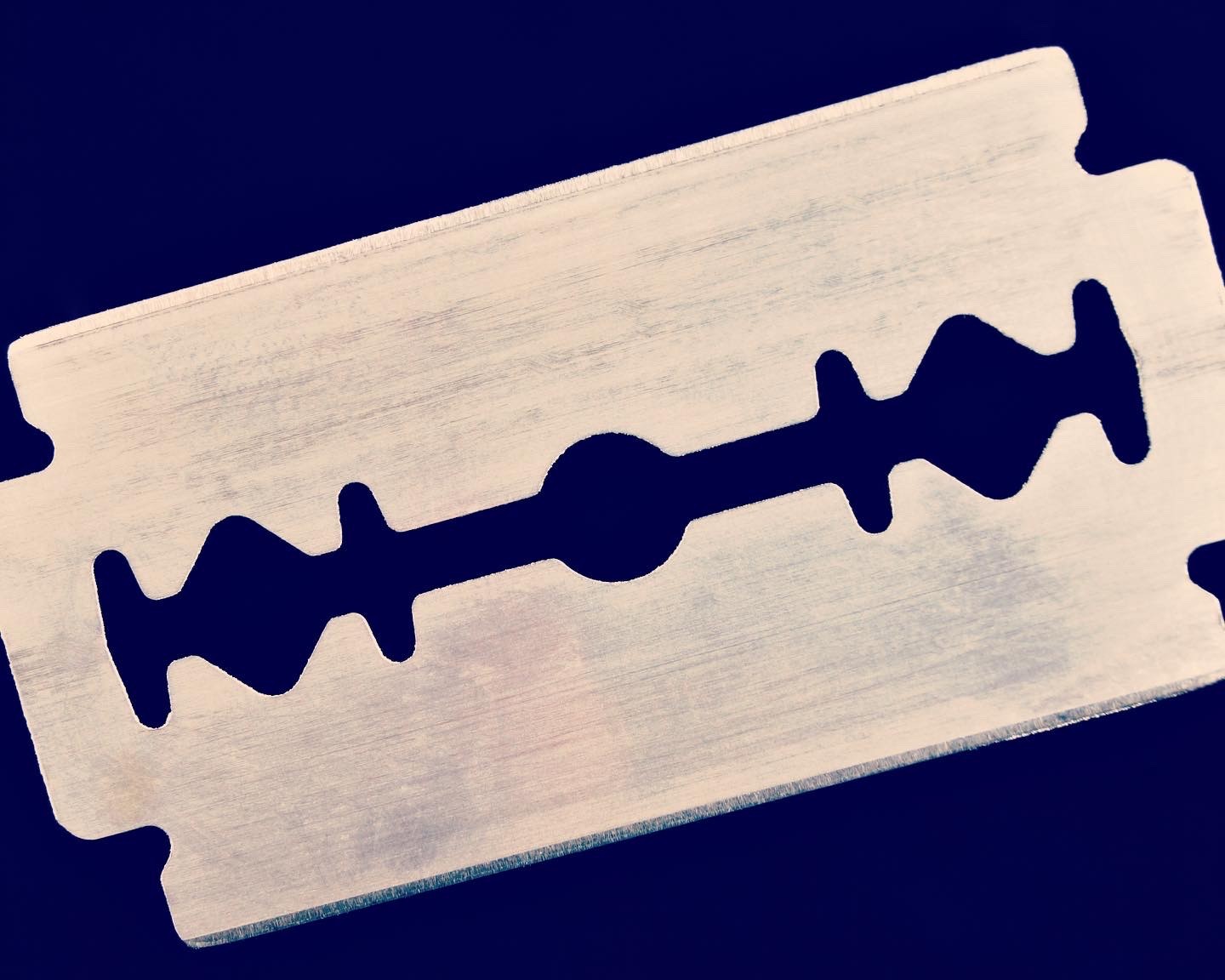 2. Look out for our monthly book theme and hints
Our monthly book themes and hints are released every 16th of each month directly on our site, socials and via email ! If you would rather know the name of that month's book just email us !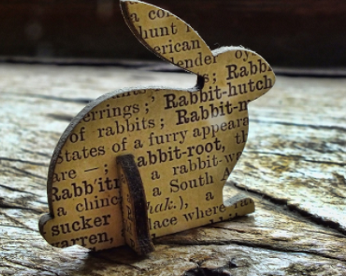 3. We ship your book box

!
Enjoy your books and gifts !
All book boxes ordered before the 16th of each month ship out between the 19th and 21st of that month. 
Pause. Skip or Cancel. 
Hassle Free !
(Unless otherwise specificied with your commitment term agreement) 
 $149.99 + Free Domestic Shipping 
International shipping is calculated at checkout
You'll receive: 
One paperback copy of Hercule Poirot's Christmas 
One paperback copy of 4:50 from Paddington a Miss Marple Mystery 
Each book will include a unique and custom book mark (A tree is planted for each book mark !) 
14 High Quality Gifts (7 per book) that you open as you read. Each box will include a combination of fun and unique bookish Agatha Christie themed gifts & items that are connected/mentioned in the books. 
Custom Agatha Christie Inspired Book Box 
Your copies of these Agatha Christie Classics will arrive tagged with sticky notes to let you when to open each gift. Each gift will arrived individually packaged  and are designed to be open once you reach a certain part of the book. 
Limited Boxes Available. 
All boxes are scheduled to ship out on the first week of December !
November Book Theme & Hints
Where do you draw the line between affection and obsession ?

Our November dark read takes us to the darkest depth of human desire. This unsettling debut novel will consume you with its pages full of desperation, intimacy and obsession. Our November pick takes inspiration from the real life murderous duo Leopold and Loeb in the darkest and most unsettling way. You will be hooked into the dark and cruel actions of the gruesome desires of our two main characters from the first few pages. This novel is definitely one that you won't be able to put down. There are very few likable characters in our book and even fewer likable choices made by them. There is no better book to dig into in the month of friendship and unity than the one that we have had selected for you ! Clever, unpredictable and deliciously dark this months pick will have you questioning who you are, who you think you are and what you think you know. Our Gods and Monsters themed book is full of rage and dark truths but also love and moral inquiry. Our highly curated gifts will keep you engaged and consumed in this deliciously addictive novel . Are you ready to be consumed and seduced by this brilliant binge-worthy dark academic thriller ?
Check out what our customers have to say.......
/** * @var $module \Ucraft\Module */ ?>
Emily. F

One of my absolute favorite subscriptions. There are a few book boxes that have you open gifts at certain parts of the story but what sets this one apart is the quality of the books themselves. They deliver their promise on dark storylines so if that's your jam, this is the box for you. The two I've received thus far have been excellent, and coincidentally are based around books I likely wouldn't have selected myself so they were also wonderful surprises. The gifts are often useful and certainly facilitate engagement with the events in the story. Shoutout also to the attention to detail in the packaging - each month's stickers, colors, and general designs fit the books so well. Bravo!

Monique. B

Not only do they choose amazing books, but they also take the time to put attention and detail into every box. My last box-Death on the Nile was fabulous. Instead of a bookmark, there was a ticket onto the ship-so it felt like I had a stepped onto the ship, which was the setting of the book! The gifts are always perfectly matched to what's going on in the book. I love that the gifts aren't always literal and instead inspired by what's going on in the book. With a DTRH subscription, you will fall in love with books you maybe wouldn't have read otherwise. It's my favorite day of the month when this box comes because it's beyond enjoyable and the gifts are so great! Always items that are usable and bring the story to life. I highly recommend this box!!! In comparison to other boxes, I think this one is the best for value, content and gifts, as well as attention to detail. And great customer service!

Kim.S

I absolutely love this box. It is such a surprise as it pulls you in by page. I have recieved 2 boxes so far and July was not to be beat... I bet they do though! I have loved every box. I have to wait on another for a bit. $50 is a little pricey for me at this time. If you can though, get this box!!





Yvette. L

I wanted to try out one of these boxes and I'm glad I did! I really enjoyed the book and the gifts tied in pretty well with the story.
I love how clues are given for the upcoming boxes so you can decide whether or not the next book will interest you. I will definitely get another one of these boxes in the future!

Casondra.T

Love the first book and gifts. I have only opened 3 out of 6 but they are spot on.

Margaret. W

Absolutely love this book box subscription!! Great books, lovely gifts that are super unique and bring the story to life. This coming month is my 4th month subscribing and I can't wait for my box to arrive. This really is the greatest thing ever, just wish I would have heard about it sooner. Thanx!!

Kristin. B

I just love this box! The books they pick are outstanding. They aren't newly released books, in my experience, and that seems to give them much more flexibility to dig around for GREAT books (that I probably missed over the years) that have so much more depth than the "beach reads" type books I get with another box. They also put so much thought into the gifts. Highly recommend!

Tina. G

I absolutely love this book box! I've just received my third box and can't wait to read and open the gifts! I've done other book boxes but this by far is the BEST! I've only bought a 3 month subscription but I'm for sure renewing! Thank you!

Amber. H

This box was a gift from my husband and I was a little nervous because I like specific genres and authors. I started the book to get to the first surprise and before I knew it I was opening the 4th!! It draws you into the story and I don't want to stop reading. The gifts are perfectly curated. I cannot wait to finish the book and wait on my next month's box! I also love that there was a handwritten note of my husband's words to me when I opened the box. Thank you!!! And I have already spread the word and you should have at least one new subscriber soon!





Lisa. H

I got this for my 16 year old daughter, she received the box about 10 minutes ago. She was so excited that she has already read the book to the first gift and it gave her the chills! She can hardly wait for gift 2! I don't know who came up with this premiss, but they are brilliant! Talk about getting into the story! One of my best purchases EVER!

Karina. L

OK THIS BOX IS AMAZING!!!!!!!!!!!!!!!!!!!!!!!!!!!!!!!!!!!!!!!!!!!!!!
Ready to take a break from books with happy endings ?